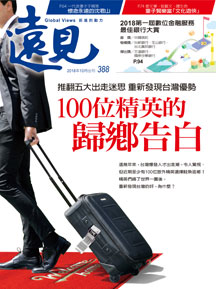 October 2018 NO.388
Comprehensive Knowledge, Progressive Ideas
Global Views: World Knowledge Leader
Since Global Views was established on July 1, 1986, Taiwan has surged with constant change. The magazine provides the most memorable record of years of turmoil in Taiwan. When it was established, Global Views aspired to far-ranging, progressive reportage. Today it aims at "far-ranging, comprehensive, global" coverage of world issues. The reports abide to these principles, whether they are of stories across the Taiwan straits or around the world, exploring objectively the emergence, significance, and development of trends in politics, economics, and social movements. In a world of uncertainty and avarice, Global Views speaks rationally and objectively, exploring alternative paths of thought for its readers.
Far-sighted, Comprehensive, Global

Global Views: In-depth Analyses, Grasping Trends
Far-sighted, Far-ranging Reflection of Taiwan
Since Global Views' publication, Taiwan has experienced dramatic changes following the martial law period. The magazine reflects the Island's pulse in every issue, and is crafted from an amalgam of social perspectives into a single, dynamic, uniquely Taiwan point of view.
World-class World Coverage
With the surging development of information technology, the 21st century is a world without borders. But global citizens will be coping with a chaotic, pluralistic world, and understanding it to deal with its trends. Global Views aims to lead its readers across invisible barriers, share warnings and revelations from international experience, and work together for a better society in the future.
遠見雜誌網站: https://www.gvm.com.tw/
遠見電子雜誌:

遠見雜誌官方社群: